Based in East Tamaki South Auckland our Tyre store offers a large range of Vehicle tyres to suit a large range of cars and trucks. Look for our Auckland Tyre store online and see our large range of different Tyre brands and sizes. If there are Tyres you need and you cannot find it on our website; please call our South Auckland Tyre store and one of our friendly staff will assist you. Next time you need Tyre servicing come see our Tyres store in South Auckland and our staff will take care of you and your vehicle.
For Your Vehicle and Driving Needs
We understand your vehicles needs and offer the right type of tyre so you can have a smooth, safe and quiet ride. We are always happy to help with any questions you may have, our customer service providers can explain everything you need to know about tyres. Don't hesitate to contact us for pricing and car servicing appointments; we are one of the most competitive, reliable and professional tyre shops in Auckland.
Get the Direct Tyre advantage with us. The tyres offered by us at Direct Tyres come with specific field tested design and technology involved in creating the best tyres for different vehicle types. Combined with our high level of service we cater to every road user. Come and get the Direct Tyre experience when you need your next tyres. We can get your tyres fitted ASAP as most sizes are readily available in store.
Contact us to get the perfect tyre for your vehicle.
We will help you save more get high quality tyres and service for your car or truck. We offer car tyres for sports, drifting, rally and off road. Along with a complete 4WD range, get the right tyre for you with the best range and best prices at Direct Tyre & Auto.
Great Features
Comfort, performance and durability are among the features people look for when buying new tyres. Direct Tyres uphold the highest quality and standard in car, 4WD, and truck tyres so you can trust us with your safety and pleasure in driving. There are many benefits to look for when buying new tyres and we can talk you through the best options for your car. We will explain what tyres cover your desired specs and driving style.
Common tyre characteristics to look out for are:
High mileage

Low rolling resistance

Long wear-life

Correct size and fitment

Good road grip on cornering and high speeds

Quiet road noise

Durability and safety

Economy and affordability
We aim to provide the best in service and quality. Direct Tyres has been the leading provider of durable and high quality tyres in Auckland for many years and we can also ship nationwide. No matter what car you have, we have the right tyres for you.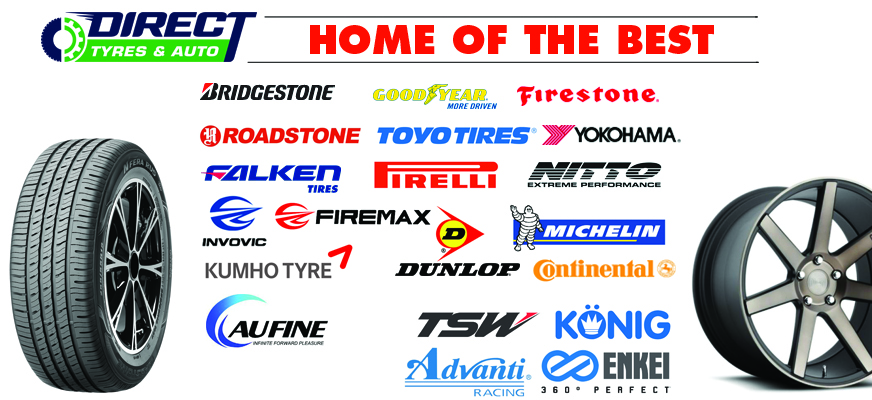 .